Practice History

Upon leaving Manchester University in 1982 Steve Hodder went to work for BDP for a year where he found that their multidisciplinary approach was flawed in practice. He was offered a job at Hopkins, but turned it down for a project offered to him by a family member. This project enabled him to set up his practice with a colleague from college with two drawing boards in his home. The practice has gone through many cycles of evolution over the past twenty years.

Initial progress was good. The young practice won a competition to build Lytham St Annes Station, and Hodder also took the opportunity to join the teaching staff at Manchester School of Architecture to supplement his income. An important part of the practice over the years has been Mr Hodders ex-wife who took charge initially of administration duties and later controlled public relations and financial aspects of the growing practice. Between 1983 and 1992 the two practice partners employed between 2 and 4 architects until his partner was left and Hodder became a sole practitioner from 1992 onwards.

Shortly afterwards Hodder won an open competition to extend Nick Grimshaws Colne Sports Hall which went on to win the Sunday Times Building of the Year Award. Mr Hodder acknowledged the help of his old colleague from BDP, Huge Pearman who now worked for the Times in bringing valuable publicity to the practice at this time.

The practice structure now evolved once again aw Hodder took on two associates to help run the practice as workload grew. The next large project was to be at St Catherine's College in Cambridge where an accommodation block was built to compliment Arne Jaconsons campus buildings. The college has now been a client of the practice for over 10 years. In 1994 Chorton Doctors Surgery was completed and won an RIBA award and this lead to the commission for another surgery in Hulme.

Towards the end of 1994 Hodder was commissioned to built a new faculty building by Salford University. The practice was given only 11 weeks to complete the design stage and get on site in order to ensure the EU grant was eligible. The building was completed at the end of 1995 and went on to win the RIBA's newly rebranded Stirling Prize the following year. Along with a £20,000 prize the win also lead to a great deal of publicity and sharp increase in workload.

In order to cope with this Hodder decided to open an office in London to compliment activities in Manchester. Two more associated were appointed to help run the new practice and the now employed at total of 12 architects between the two offices. However, the dual office set up was to lead to problems. With his time split between Manchester and London, Hodder was unable to maintain the level of control he desired and because the practice lacked the required management structure, quality and staff satisfaction suffered.

However, several prestigious projects were still won. CUBE Gallery in Manchester, the Arndale Bridge and a lottery funded sports centre in London kept the practice busy. However, the decision was taken to consolidate the practice and Manchester and the London office was closed. Subsequently the commission to build the National wildflower Centre was won and then practice was now larger then ever.

The practice structure now consists of 4 associates each responsible for a separate area of concern (management/quality, IT, education, design) overseeing 8 architectural staff. Two full time administration staff work alongside and a financial controller was appointed to overlook that aspect of the firm, fully freeing Hodder to concentrate on his strengths of design and client liaison.

Financial Control

Phil Parry, Hodders Financial Controller has now been with the practice for 4 months and he explained to use what his roles are. His main responsibility is to ensure the profit margin and this is done via a Financial Framework as follows:
Define financial plan for each job
establish expected income and profit
detail pricing assumptions (wages, overheads etc)
identify personnel resources
external resource requirements (printing, travel etc)
monitoring and control
This framework is applied through the RIBA Stages with the aim of always maintaining the profit margin.
Colne Pool, with itís saw edged roof echoing the old mill roofs around it, won the Sunday Times Building of the Year award.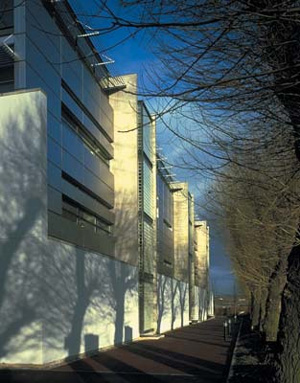 University of Salford Centenary Building which won the inaugural Stirling Prize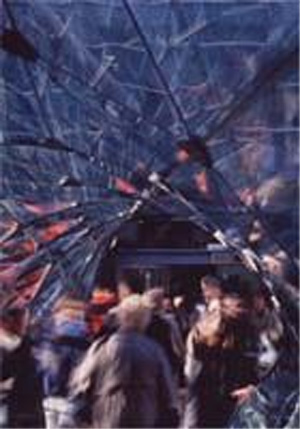 Link bridge from Manchester's Arndale to Marks and Spencer's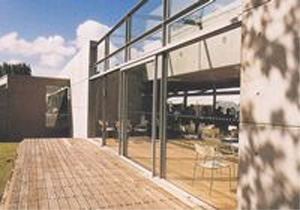 The National Wildflower Centre