Irena Bauman, director of Bauman Lyons Architects, is perhaps best known for the award winning refurbishment of the Bridlington Foreshore. She was educated at Liverpool University and has lectured at Schools of Architecture across the UK. She is based in Leeds and much of her practice's work has been in the Yorkshire area, recently including a new Media Centre in Leeds, a new gallery at the Yorkshire Sculpture Park and a series of innovative new bus shelters in Bradford. She is also one of CABE's fourteen Commissioners


Architect: Artist or Businessman?

Ms Bauman began her lecture with this question and proposed that the fundamental difference between an Architect and an Artist is that Architects tend not to execute their won work. She went on to illustrate three overlapping spheres of architectural talent, namely; innovators, technicians and business people. Where all three attributes overlap within one individual a separate, rare breed is found; the genius. Ms Bauman herself placed BLA in the overlap between innovators and technicians.

Belbin Team Roles

The next stage of the lecture was a most interesting introduction into the Belbin Team Roles. In the late 1960's, Dr Meredith Belbin started pioneering work in the field of team performance and carried out extensive research into the ways that different members of a team can compliment or conflict with each other. Belbin profiling gives us a language with which to understand ourselves and others within our team. Instead of seeing annoying weaknesses, we tend to consider the positive strengths of others in the team. The team members are outlined below:

CHAIRPERSON

1. Clarifying the goals and objectives of the group.

2. Selecting the problems on which decisions have to be made, and establishing their priorities.

3. Helping establish roles, responsibilities and work boundaries within the group.

4. Summing up the feelings and achievements of the group, and articulating group verdicts.


SHAPER

1. Shaping roles, boundaries, responsibilities, tasks and objectives.

2. Finding or seeking to find pattern group discussion.

3. Pushing the group towards agreement on policy and action and towards making decisions.


PLANT

1. Advancing proposals.

2. Making criticisms that lead up to counter-suggestions.

3. Offering new insights on lines of action already agreed.


MONITOR/EVALUATOR

1. Analysing problems and situations.

2. Interpreting complex written material and clarifying obscurities.

3. Assessing the judgments and contributions of others.


COMPANY WORKER

1. Transforming talk and ideas into practical steps.

2. Considering what is feasible.

3. Trimming suggestions to make them fit into agreed plans and established systems.


TEAM WORKER

1. Giving personal support and help to others.

2. Building on to or seconding a member's ideas and suggestions.

3. Drawing the reticent into discussion.

4. Taking steps to avert or overcome disruption of the team

RESOURCE INVESTIGATOR

1. Introducing ideas and developments of external origin.

2. Contacting other individuals or groups of own volition.

3. Engaging in negotiation-type activities.

COMPLETER

1. Emphasizing the need for task completion, meeting Work and schedules and generally promoting a sense of urgency.

2. Looking for and spotting errors, omissions and oversights.

3. Galvanizing others into activity




Bauman Lyons Architects

Later in the lecture Ms Bauman went on to describe her experiences in practice with Bauman Lyons Architects.

The practice started with 2 people 10 years ago and has grown steadily to the current size of 12 staff, comprising 8 architects and 3 administration staff. It has taken 10 years to establish the firm which has now reached the stage that they hardly ever have to solicit for work.

Her own analysis from Belbin was originally that she was in the 'shaper' or 'plant' categories outlined above, but that has now transformed into more of a 'coordinator'.

Bradford Bus Shelters

Ms Bauman also described a recent project undertaken by the practice which was the design of a bus shelter on Manchester Road in Bradford. This was a project of huge contractual complexity with 4 different funders each wanting different things from the shelter. The practice had to battle hard over issues such as the colour of the shelter and the inclusion of and the inclusion of a work of installation art. She stated that architects should go back to basics and question every aspect of a brief, which is what happened in this case, with wonderful results. The shelter in now very popular with it's users, which in no doubt partly attributable to the installation which by means of a camera and an evolving computer program can comment on passengers clothing as they wait for the bus.


Manchester Road Bus Shelter, Bradford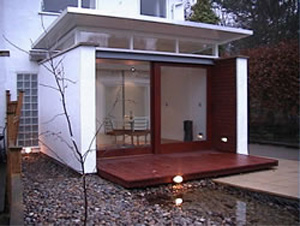 Church lane House Extension


Leeds Media Centre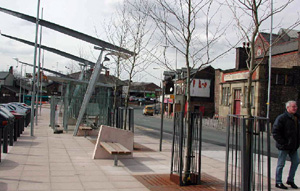 New Public and Performance Space, Garston, Liverpool