Outcomes
The outcome of the process took the form of a video installation. It is described below.



Video Installation (see image below)

The video installation attempts to convey our conclusions about the characteristics of our study area resulting from our analysis and research phase. The primary aim was to convey the defining nature of the area - namely the dichotomy of character experienced between the often bucolic University Campus and the harsh deprivation of the neighboring estates. The University Campus invariably feels safe, pleasant and busy, it's status as an enclave heightened by the omnipresent green and white University Logo located at dozens of points throughout the campus. This logo is clearly precious to the University - they have a 13 page document detailing the precise manner in which it may and may not be used. On site it forms an additional function by demarking the boundaries of the University enclave, indicating to students where they may use their mobile phones safely.

In the blacked-out installation room, a 7m x 3m semi-transparent projection screen is suspended from the ceiling and divides the square room diagonally in two. One half of the room represents the academic environment and is accessible to the audience. From here they watch a video installation which is projected onto, and through, the dividing screen. The second half of the room represents the neighboring Broughton Estate. The walls and floor here are covered in a thick and crumpled layer of rubbish which is formed predominantly of torn mobile phone catalogues (In February 2002, 30 mobile phones were stolen from Salford University Students). A second projector is located within the rubbish, and the image is reflected onto a mirror which is used to manually move the projected image. This second video is an unedited tour of the Broughton Estate and features random encounters with local youths, the police and desolate abandoned houses. As the image moves fleeting around the floor, walls and the back of the screen, it is broken up by the surface of litter and often interferes with the highly edited video as it is projected onto the opposite side of the screen.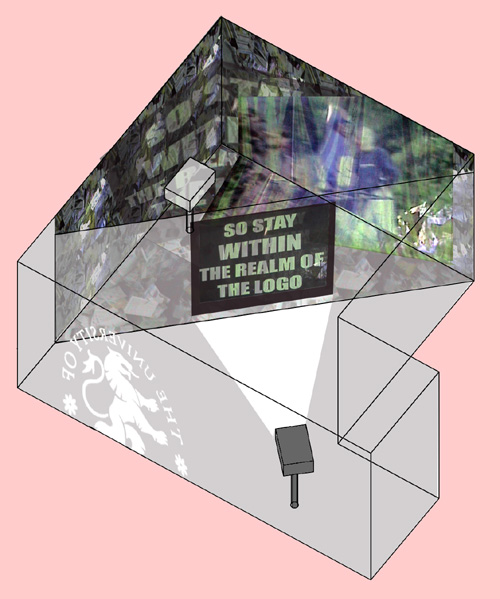 You can download miniature versions of the videos here. They are low quality, but should download quickly to be viewed in Windows Media Player.

Click Here for the main projection Video

Click Here for the a short video of the installation in progress

Higher resolution copies are available on request.